PROTECTING & PRESERVING THE WOOD MURALS OF
Artist Ed Lantzer
The My Father's Love Foundation
My Father's Love Foundation was established for the purpose of housing and protecting Ed Lantzer's wood mosaic panels as well as for coordinating and displaying the panels for the world to see.  A Board of Directors was created to oversee the Foundation and to make sure that Mr. Ed's wishes for the panels were brought to fruition.
The panels are made up of small wooden diamonds cut either on a 30 or a 60 degree angle. They are cut with four different saws so that their dimensions are identical. The wood is finished with simple varnish – no painting or staining changes the natural hue of the material.
Ed's father taught him this form of art called Marquetry— in which small pieces of wood are overlaid onto another wood surface to form a picture—and goes back eight generations in Ed Lantzer's family, but his family tradition dictated wood pieces cut on a 45 or 90 degree angle.
"My dad was a 45-90 man," he says. "I was able to work with that until I was 15. At that point my dad said, 'go find your own angle.' I chose the 30-60."
These pieces of wood are the building block's of Ed's work. Carefully crafting each mural, Ed did not do any design work ahead of time. He didn't sketch, he simply created.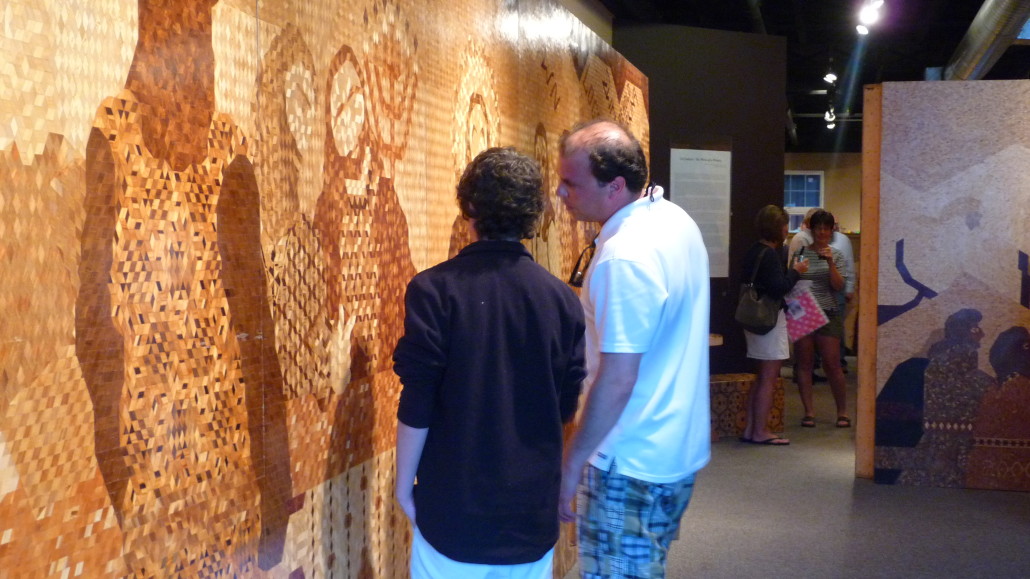 "My Father's Love is a testament of divine redemption that unfolds over a series of thirty 4'x8' marquetry panels … An inspired work of faith, Lantzer has also created a masterpiece of vernacular art."
– Gregory Waskowsky, Outreach Curator Kalamazoo Institute of Arts
Larry Potash receives an Emmy for his coverage of My Father's Love
"It is a brush with God's way of gifting the humble. May it open minds and hearts, and bring many in to see the panels. I hope this has reached the widest audience."
"I felt as though I was actually standing with Jesus and the disciples every time that I stood beside the panels. The story became real and it touched my heart in new and different ways — the impact was simply overpowering and life altering!"
"A blessing for my family to see for so many reasons"
"Awesome – A true gift from God"
"Mr. Lantzer was so gentle with our students and very interested in them! They, in turn, were very interested in all that he had to say and intrigued by his artwork – they realized that his work was from God!"
"No man can do this without the inspiration & love of God!"
"Incredible talent from God!"
"An incredible witness to the glory of God in the artist's lifetime!"
"This is amazing and life changing!"
"The beautiful thing that I have ever seen"
"I am standing on Holy Ground. This was my feeling as I first stood before the murals of Ed Lantzer. I felt a sense of reverence, awe, and God's presence. I saw God revealing Himself through the hands and work of this artist. This sense was further reinforced as I heard, from Ed's own lips, the miracle of his life; devoted to the creation of these murals as God revealed the patterns and designs that Ed made reality. As art, Ed's creations are remarkable and unique. As art created under the guidance of the Holy, they transcend our understanding and bring us face to face with an aspect of the Devine. This is, indeed, Holy Ground."
Click here to add your own text
Click here to add your own text
Click here to add your own text