Meet the Board of Directors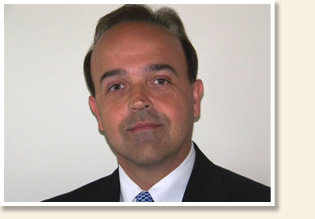 Paul Hresko
President/Chair
Paul was born and raised in Flint, Michigan. He graduated from the University of Michigan with a Bachelor of Science degree in Computer Science and Psychology. Paul worked sixteen years in Materials Management for the following divisions of General Motors: AC Spark Plug, Delco Electronics and Powertrain. He then relocated permanently to Elk Rapids, Michigan in 2000 where Paul met & married his wife, Patti, who is a Nurse Practitioner & critical care nurse in the intensive care unit at Munson Hospital. They have two amazing children!
Paul developed, owns and operates commercial real estate holdings including weekly vacation rental properties.
Paul is active in the community. He is a member of the Elk Rapids Merchant Association, a member of the Elk Rapids Chamber of Commerce and a Eucharistic Minister for Sacred Heart Catholic Church.
Paul holds positions on the following Boards:
Executive Board Member for Networks Northwest
Member of the Family Advisory Council for Munson Hospital
Served 10 years as Treasurer for the Traverse City Area Human Resource Association
Paul enjoys his personal time landscaping, boating, networking and most of all spending time with family...... preferably at the beach!
Personal Mission - To utilize my God given gifts and talents to help bridge the personal, physical, financial, and spiritual gaps between "What is" and "What can be." To ultimately kneel before my Lord and Savior and hear him say..... "Well done."
My Father's Love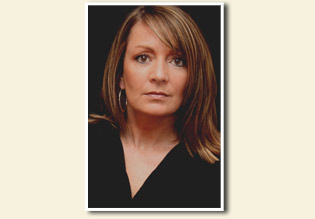 LaShelle VanHouten
Vice President
The day LaShelle was introduced to Ed Lantzer was a life changing moment. She began taking her students that were considered "troubled" to Mr. Ed's workshop for two hours a day. This lasted for two years. During those two years everyone had the opportunity to learn from a true artist. Mr. Ed not only taught LaShelle and her students about art, but also about life. LaShelle considers this a changing point in her life. She decided to engage in this project to help her students, but came away from it as a more mature person and artist. Mr. Ed's gift as a mentor and friend will be something she will always treasure.
After spending four years documenting Ed Lantzer's life, LaShelle wrote the book The Mural Writer. It is a moving memoir about Ed and his journey.
LaShelle VanHouten was born and raised in Kalkaska, Michigan. She is married to Kenneth VanHouten, is the mother of two children, Kaleigh and Ty and the grandmother to Ellianna, Matthew and Karter. The two dreams that she had during her childhood were that her life would involve the arts and that she would make a difference in the lives of other people.
LaShelle studied art at Northwestern Michigan College and has been working as a freelance artist and muralist for over twenty-five years. She graduated with a Bachelor of Arts degree in Family Life Education and a Master of Arts degree in education.
LaShelle has worked as an art teacher for Kalkaska Public Schools for fifteen years and retired in 2015. Eight of those years were spent using the arts to touch the lives of at-risk adolescents. During that time LaShelle and her students took on several mural projects for the community. Some of the projects included painting two large murals for The National Trout Festival, which are used as a backdrop for the grandstand. They also painted a mural, which measured 45' wide by 12' tall, of Mackinaw Island's Grand Hotel for Fitch's School of Dance.
LaShelle has walked the path towards her childhood dreams, and with God's help, she will continue.
My Father's Love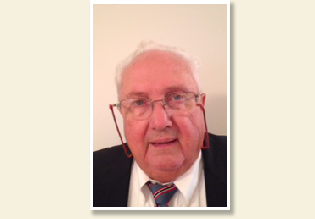 Harold "Woody" Woodruff
Trustee
I was born in 1942 in St. Louis Mo. Raised in Lansing Michigan and have lived in Chicago ILL. Kalamazoo Mi. Detroit Mi. and now in Good Hart Mi.
I was married for 42 years now divorced.
I have two sons, David and Douglas who is married and has two children.
I am a member of First Presbyterian Church of Harbor Spring, and a member of Petoskey Rotary Club
I have had family in the Petoskey, Harbor Spring area dating back to the 1860's and I moved to Good Hart in 2004, changing the family cottage into my home.
I am the President and Co-owner of Windjammer Marina and Development Co. I hold a Master of Science Degree in Industrial Supervision from Western Michigan University a Bachelor's of Science Degree in Electrical Engineering from Western Michigan University a Associate Degree in Electronic Technology from DeVry Technical Institute
Before purchasing the Windjammer Marina in 1991 I was Chief Engineer at Valves Inc. were we developed and patented air valves. I have worked for MAC Valves in product development engineering, Massey Ferguson in production management and quality control, Ford Motor Transmission Division in production and product development, and Teletype Corp, in quality control test development.
My Father's Love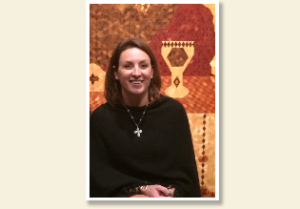 Allyson Cayce
Trustee
Allyson was born in upstate NY and moved to the Chicagoland area after college. She and her husband, Doug, married in 1995 and have three children: Drew, Molly and Maggie. Allyson is a stay at home mom and active in various service oriented work. She and her husband founded Hip Hop Helpers in 2005. It is an annual "dance party" for children where they raise money and/or materials for children in need. That need may be financial, physical, emotional or spiritual. Allyson has volunteered as a religious education teacher for eight years at her parish, St. Joseph Catholic Church, in Libertyville, IL.
Allyson met Lashelle VanHouten, author of the Mural Writer, on an airplane ride in late March 2015. Little did she know that the two wooden diamond pieces LaShelle gave her that day would change her life forever. Allyson travelled to MI in June 2015 to find out that the Murals were "homeless". Thereafter, she arranged for a new home in Libertyville at what became known as the Foulds Gallery in Dec 2015-June 2016. She was invited to be on the Board during that time in an effort to continue serving Ed's wishes for his beloved Murals.
Allyson believes that Everyone has a Story. We all have gifts and talents. (Sometimes we just don't realize them!) Knowing our Father's Love is an extraordinary joy and it is with humble gratitude that she serves on this Board.
My Father's Love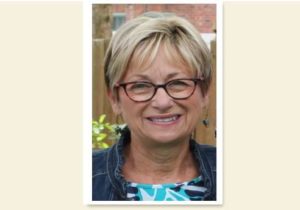 Kay Sander
Trustee
Kay's mission in life is to add value to others that cross her path and that is why she is delighted to serve on the Board of My Father's Love knowing it certainly adds value to those who experience it. She always says she is a better person for having known Ed and he certainly added value to her life so she prays for opportunities to do the same for others.
In the summer of 2009, she and Steve happened to be vacationing in Bay View, Michigan and read in a church bulletin of an art exhibit called MY FATHER'S LOVE in
Petoskey, MI. They went to see it and were forever changed. Kay said that when she walked into the gallery, she knew she was on Holy Ground.
They started talking to one of the men showing people around and Kay said a voice rose up from within her saying "This has to come to our community, Evansville, IN." John Meyer was kind but explained this was the first time it had been on display and the Board had not discussed having it travel. He invited them to come back the next day and meet Edgar Lantzer, the artist.
When they met, Kay said they knew they were in the presence of a special person. We had no experience with art or hosting an art show but we knew that God wanted it to come to Evansville….Kay said she had never been more certain of anything in her life.
God did provide abundantly for MY FATHER'S LOVE to be exhibited in Evansville for several months and over 25,000 people viewed it. Countless lives were touched in significant ways not only by the panels but by Ed who was able to be with his panels in Evansville part of the time.
Kay served for many years on the board of Outreach Ministries, a nonprofit serving the working poor and has been involved in other local ministries. She has led a prayer ministry at a local nursing home for several years.
Kay says she will always consider Ed her mentor and one word of wisdom that he often shared is "The Father will provide." Our experience with our community supporting MY FATHER'S LOVE is a testimony to that.
Kay grew up on a Grade A dairy farm where she not only learned to milk cows but also the value of working hard and taking care of our land. She met her husband, Steve, while attending Indiana State University where she received a BS and MS in Speech Pathology.
After marrying Steve, they moved to his hometown, Evansville, IN, where he was a teacher and coach at the high school level. They now reside in Newburgh, IN near Evansville. Kay worked in the Evansville Vanderburgh School Corporation as a Speech Pathologist for 17 years and then made a career change to coaching and mentoring others on living younger longer.
Steve and Kay are the proud parents of two sons who have blessed them with two beautiful daughter-in-laws and four terrific grandchildren.
My Father's Love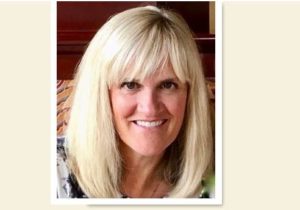 Amy Shanahan
Secretary
Amy Shanahan serves as Secretary for the Board of Directors.
It was while helping at a school's Halloween party committee, that Amy first met current board member Allyson Cayce. From that first meeting, they became dear friends. Many years later, Allyson learned about the story of Ed Lantzer through a chance encounter with LaShelle VanHouten and subsequently by reading Lashelle's book, "The Mural Writer." Allyson invited Amy to join her on a pilgrimage to Michigan to seek out Ed's amazing wood mosaics, but unfortunately, they were never able to see the Ed's work. Amy and Allyson both realized that there was something special about Ed Lantzer and his story and felt moved to get the murals on display in their town.
Amy and her husband Mike worked to prepare the new Fould's gallery in Libertyville, IL to appropriately display the murals. They were among several volunteers that actively installed the murals at the gallery, where Amy served as a greeter and docent. Amy loved sharing Ed's story and art with the many visitors. She has been inspired to see how this exhibit has touched so many lives, including her own. Amy is grateful to serve on the board to continue to spread the message of Ed's faith and love to those who need it most.
Amy works part-time for a road construction firm, and volunteers in her free time at her parish, St Joseph Catholic Church, Libertyville, PADS shelters, and at her local schools.
Amy was born and raised in northern Illinois and currently lives in Green Oaks, IL with her husband, Mike. They have two children, Molly and Jack and a beloved dog, named Hunter. She enjoys travelling, golfing, watching the Cubs and spending time with family and friends.
My Father's Love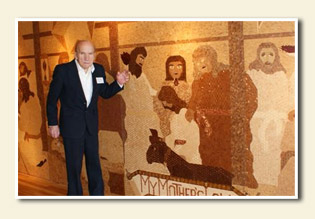 Ed Lantzer
Emeritus
When Ed was young, scarlet fever severely affected part of his brain and although he could read he was unable to write. Instead, he had developed another part of his brain that most people do not use – the part that uses symbolism and numbers.
His father taught him marquetry – the craft of covering a wood base with small pieces of wood to form patterns or pictures. He also learned the carpentry trade which he used in the Kalkaska area to build houses until he divorced.
He found employment in Orlando, and it was during this time that he became awakened to the call from God to create the panels.
He saw the completed panels in his mind before the work even began. Ed never sketched the panels – the biblical scenes were pre-assembled only in his brain.
Once back in Kalkaska he ate most of his meals at the local Big Boy. He worked on the panels in the old Craft House warehouse, until a more permanent home was found for them.
It is Ed's wish that the panels never be sold - Lantzer's wish is that somehow his work may benefit unloved children whether it be spiritually, financially or artistically.
My Father's Love